When you search for something on Google you see a Search Engine Results Page(SERP). The higher you are on the SERPS the more likely you are to gain visitors to your website. So, how does Google determine who gets these top placements? This is where Search Marketing comes into play.
"By understanding our customers business, we have built long-term partnerships to support and guide them"
Search Marketing is the process of acquiring website traffic and customers via search engines such as Google, Bing, Yahoo and others.
It involves two disciplines: SEO (search engine optimisation) and SEM (search engine marketing).
SEO focuses on acquiring customers via visibility in natural/organic search results.
SEM focuses on acquiring customers by placing paid ads (Google Ads) on search result pages.
Arguably, they both sound like the same thing, but in reality, these are two quite different approaches to becoming visible on the SERPs (search engine results pages).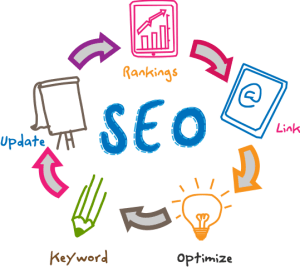 Search Engine Optimization (SEO)
Search Engine Optimisation is the active practice of optimising a web site by improving internal and external aspects, in order to increase the traffic the website receives from search engines. Google recommend the following to get better rankings in their search engine:
Ensure your website is Mobile friendly and fast loading
Make pages primarily for users, not for search engines.
Don't deceive your users or present different content to search engines than you display to users. This is commonly referred to as cloaking..
Make a site with a clear hierarchy and text links.
Every page should be reachable from at least one static text link.
Create a useful, information-rich site, and write pages that clearly and accurately describe your content
 Search Engine Marketing (SEM)
Search Engine Marketing is a strategy using paid tactics to gain visibility on the search engines. It is also known as PPC (pay-per-click).
We take full control over when ads show and who they show to, making the channel perfect for testing out new ideas, sending traffic to a purchase point, or for accelerating traffic during quieter periods.
Results are immediate with SEM. It is arguably the fastest way to drive traffic to a website
The Venta approach
From our many years of experience, the best way is to treat SEO & SEM as a crucial part of your overall Marketing strategy and ensure that it works with and supplements your other activities aimed at growing your business.
As each customer has different requirements and expectations for their online activities, we will take the time to find out about your company and its products/services before make any recommendations.
However, the main stages remain the same; it's just the amount and depth of work that changes for each project. We will offer you different SEO packages to suit your aspirations and budget.